Service station customers can now enjoy Mr Lee's products, all at the tap of a screen. 
Healthy instant noodle and porridge manufacturer Mr Lee's Pure Foods has launched a hot product vending concept at Moto Cherwell Valley Services on Wednesday, 19 January. Developed by RBC Group, the Noodle Bar allows visitors to purchase a cup of premium Mr Lee's products, which they can prepare on the spot. 
The innovative machine — developed using the latest RBC Group technology innovations — is a one-of-a-kind vending concept which allows customers to either purchase dry products for later preparation, or hydrate them directly at the machine and enjoy a hot meal immediately.
The Noodle Bar features a large interactive touchscreen, running our pioneering SmartSelect user interface, which enables the customer to intuitively choose products and customise their order to their preference. The software facilitates fluid, advanced machine interactions, such as selecting product water levels, adding various sauces, accessing product information, nutrition declarations, and more.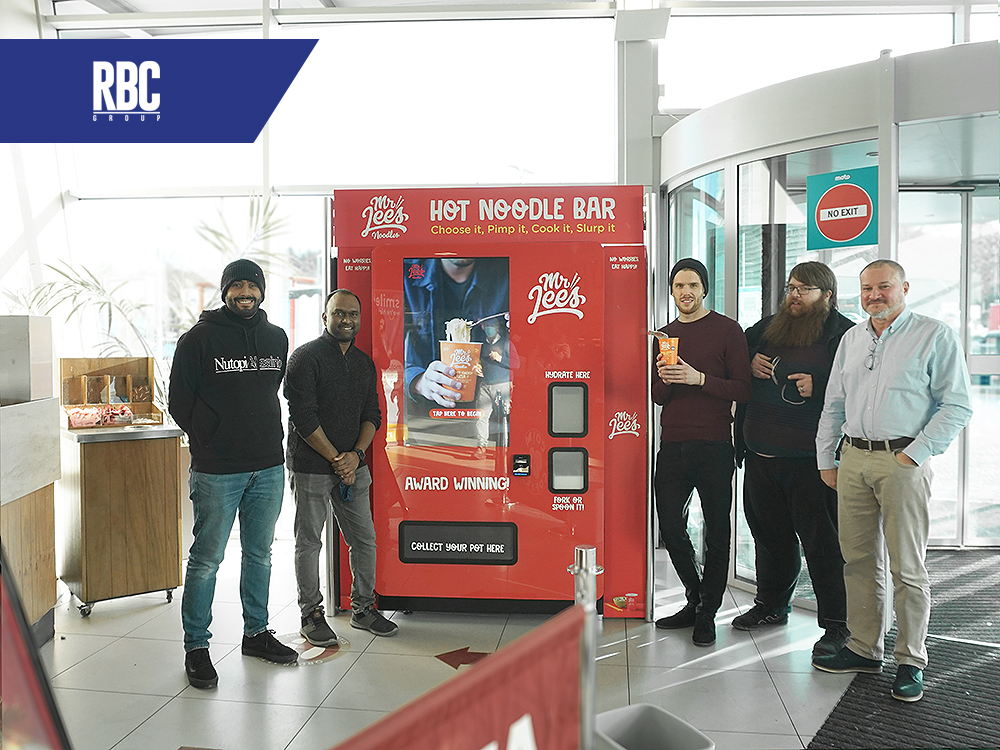 Powered by our proprietary VendSmart telemetry platform, the machine gives Mr Lee's access to unmatched usage data and AI-assisted forecasting. This increases efficiency and profits by allowing advanced stock and status monitoring, ensuring the machine is always well-stocked and in good working order.
This machine marks the start of Mr Lee's Pure Foods partnership with RBC Group, which aims to replace the former's old machines with our user-friendly, sustainably manufactured and energy-efficient units. RBC Group's Managing Director, Jiri Horalek comments: "We are very excited to be powering Mr Lee's mission to positively disrupt the instant foods industry and encourage healthier consumption habits. Our machines will help make this ambitious endeavour a reality by providing reliable, user-friendly technology which will attract more customers and set new standards within the sector."
The Moto Cherwell Valley service station is located 15 minutes from Bicester Town Centre, at Junction 10 on the M40.